Tradition and Heritage of LANIGAN Worldwide Moving and Warehousing
Southern Heritage is now Lanigan Worldwide Moving & Warehousing
Southern Heritage Transfer and Storage opened in 1949 and has been a local Jackson Mississippi ALLIED agent and top moving company in Jackson for 72+ years. In 2018, Southern merged with Lanigan Worldwide Moving & Warehousing, another ALLIED Agent since 1955. The same dedicated moving team and staff now work for Lanigan Worldwide Moving & Warehousing.
Lanigan Storage and Van was founded by Edward J. Lanigan, Jr. in 1955. Serving as a continuous interstate agent for Allied Van Lines, Lanigan also remains as one of the top Jackson MS moving companies. Edward Lanigan served as owner and president until his death in 1971. His sons, Edward "Jay" Lanigan and Dick Lanigan, assumed the ownership of the company until Dick's retirement in 2000 and Jay's death in 2007. With the death of Jay Lanigan, his wife, Lynn, assumed the role of president until her retirement in July 2015. The company has been qualified as a Woman Business Enterprise since 2007.
Lanigan Worldwide Moving & Warehouse Moving
The company was purchased in July 2015 by long-time employees; Mitzi Lyne, President, Shannon Hollingsworth, Director/Shareholder, John Lyne, Vice President/Operations and Rodney Hollingsworth, CFO. With Mitzi Lyne and Shannon Hollingsworth as majority owners, Lanigan hopes to continue to service the Jackson community as a qualified Woman Business Enterprise and professional moving company.
Operating from a 63,000-square-foot office and warehouse facility in the heart of the distribution center of Memphis, Tennessee, LANIGAN Worldwide Moving provides top-quality local, intrastate, interstate, and international professional moving services to families and corporations.
Call us for temporary warehousing – our facility is air conditioned, has outside lighting and is secure.
All Lanigan Moving employees are committed to the principles grounded in over 72 years of tradition. Adherence by its management and employees to these principles places Lanigan Worldwide Moving and Warehousing among the best in all disciplines of the moving and storage industry — locally in the Greater Jackson, Mississippi area, nationwide and worldwide.
Community Involvement
LANIGAN Worldwide Moving is continually called upon by various charities and community agencies to assist in their relocation, storage, and related needs. Throughout the years, Lanigan has offered their services to:
Move for Hunger program with Allied van Lines.
Volunteer Mid-South Annual Share The Spirit of Giving Event.
Agape Families in transition, Bent Tree Project, and continuing moving needs.
Holy Rosary Catholic Church/St. Vincent DePaul, Christmas for needy families.
Junior League of Memphis.
RiverArtsFest.
Susan G. Komen Race for the Cure.
These are just a few of the Jackson area charitable causes that have benefited from LANIGAN's corporate commitment to improving the lives of others. We provide local business and residential moving to and from Clinton, Terry, Hattiesburg, Meridian, Natchez, Starkville, McComb, Brookhaven, Greenwood, Vicksburg, Raymond, Byram, Natchez, Gluckstadt and Yazoo city.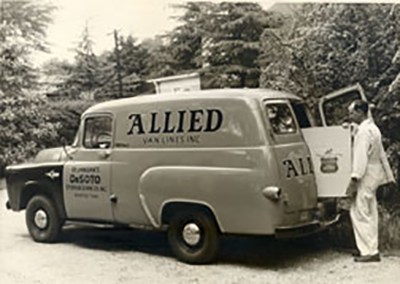 Lanigan/DeSoto Moving relocating a family to the Central Gardens neighborhood in Memphis, Tennessee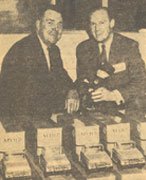 Founder Ed Lanigan , Jr. (left) and Fred Bell (right), manager of Allied Van Lines of Chicago
---
---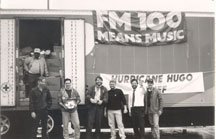 Lanigan/ Moving delivered relief supplies provided by local residents to victims of hurricane Hugo in 1989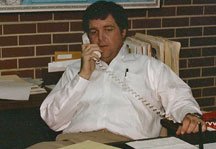 The late Jay Lanigan was the third generation to lead the Lanigan Moving team.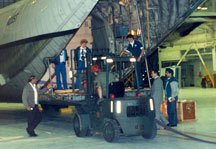 Lanigan Moving was selected to move the "Ramses the Great" Wonders Series exhibit in 1987.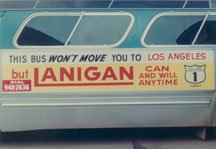 An Allied Interstate agent for over 80 years, Lanigan has relocated families across the country and around the world.